EICMA 2017 – Electric Mopeds Review
For those of you who visited EICMA 2017 this year, you might have noticed a growing amount of 100% Electric 2 and 3 wheeled bikes popping up. Sure, they were not competing with the uber petrol head stands laden with lycra dressed maidens, but I counted over 20 companies scattered around the 6 massive halls of Europes largest bike show. Of course, with all but one exception that Ill come back to, most of the visitors were likely to be more curious than anything else but even so there was interest nonetheless.
There was an "e-bike" section in one of the halls but this was aimed at pedelec rather mopeds/motorcycles and I wonder if the organisers might consider creating an "Electric" section covering both rather than scattering the vendors around 5 different halls in future.
What are the major brands doing?
Piaggio were making a relatively big deal of their Vespa Elettrica. Of course, the majority of their stand was old-school but for the Elettrica, in addition to adorning it with a model (lycra clad and available for photos and selfies), the static display was next to its very own runway where if you had stayed around long enough, I imagine smoke and music would have erupted and perhaps it would have been wheeled out….I didn't stay long enough. According to their recent announcement it "is not an electric scooter, it is Vespa Elettrica, it is a contemporary work of art with a technological heart". Hyperbole aside, with the X version claiming over 200km and the brand behind it, once it comes out next spring, it will be interesting to see the response.
Conversely, Peugeot were making a small deal of their GenZe based bike. As the name suggests, its their badge on the Mahindra/GenZe bike, an India/US collaboration and despite having two on their stand, they had nothing they could tell me about it other than what was on the display card (Lithium 2kw, 52V). The point of interest was however, that it does have "energy recovery" called Regenerative Braking in the blurb which I am asked about a lot so it would be good if other.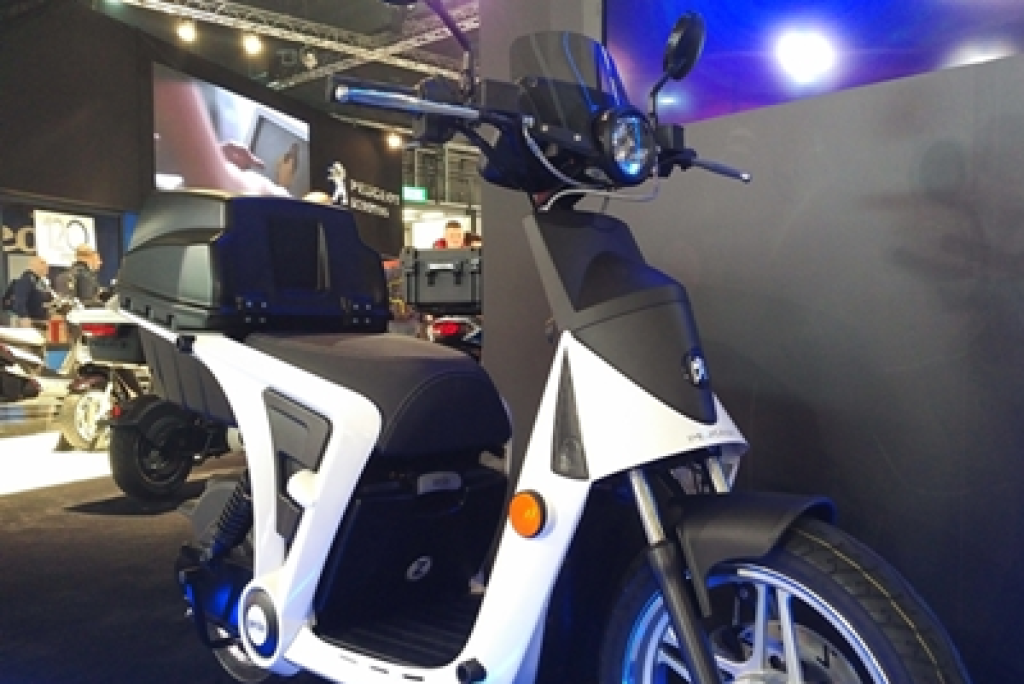 manufacturers can follow suit on that. "Kers for Bikes" would be a useful addition to squeeze every last bit of range out of a trip. Presumably this is a stop gap for Peugeot to give them the appearance of having green credentials without the actual R&D effort.
Three Wheelers!
What I did notice this year was a growing number of electric 3 wheelers around, some new and some being announced.
The Silence brand from Scutum had a couple of their new 4KW S03 on show. With load carrying of 125KG and features like a reverse gear (standard feature on all ECCity motorbikes), three wheelers in general have an obvious target market of delivery. Scutum are still suggesting this is "coming soon".
From China, Doohan's ITank on the other hand has been taken on by GoodYear as its 1490w based ITrike. Again, an example of a well know brand adopting someone elses technology giving the manufacturer some great exposure and credibility.
Unfortunately, Doohan said that their electronic display is not configured for MPH so it would be a struggle to get a V5 for it or the more eye-pleasing 1200w ITango and I can also see an almost mandatory top-box is required as storage seems lacking on both.
Not to be out-done, Torrot have announced its Velocipedo that comes in two guises. One is an inline "bubble" based two seater that includes doors and seat-belts meaning no helmets are required. It reminds me of the same idea as the Renault Tweezy or BMW C1 in a 3-wheeled guise but the Velocipedo's "face" is certainly more striking. The other version which is more likely to be the target for it is in its delivery variant. In this one, the second seat and the back portion of the bubble are replaced with an impressively large delivery box capable of taking up to 210L. Both feature no less than 5 removable batteries (the bike can run on 4) which run the 10KW motor and boasts up to 150km range. Available to pre-order.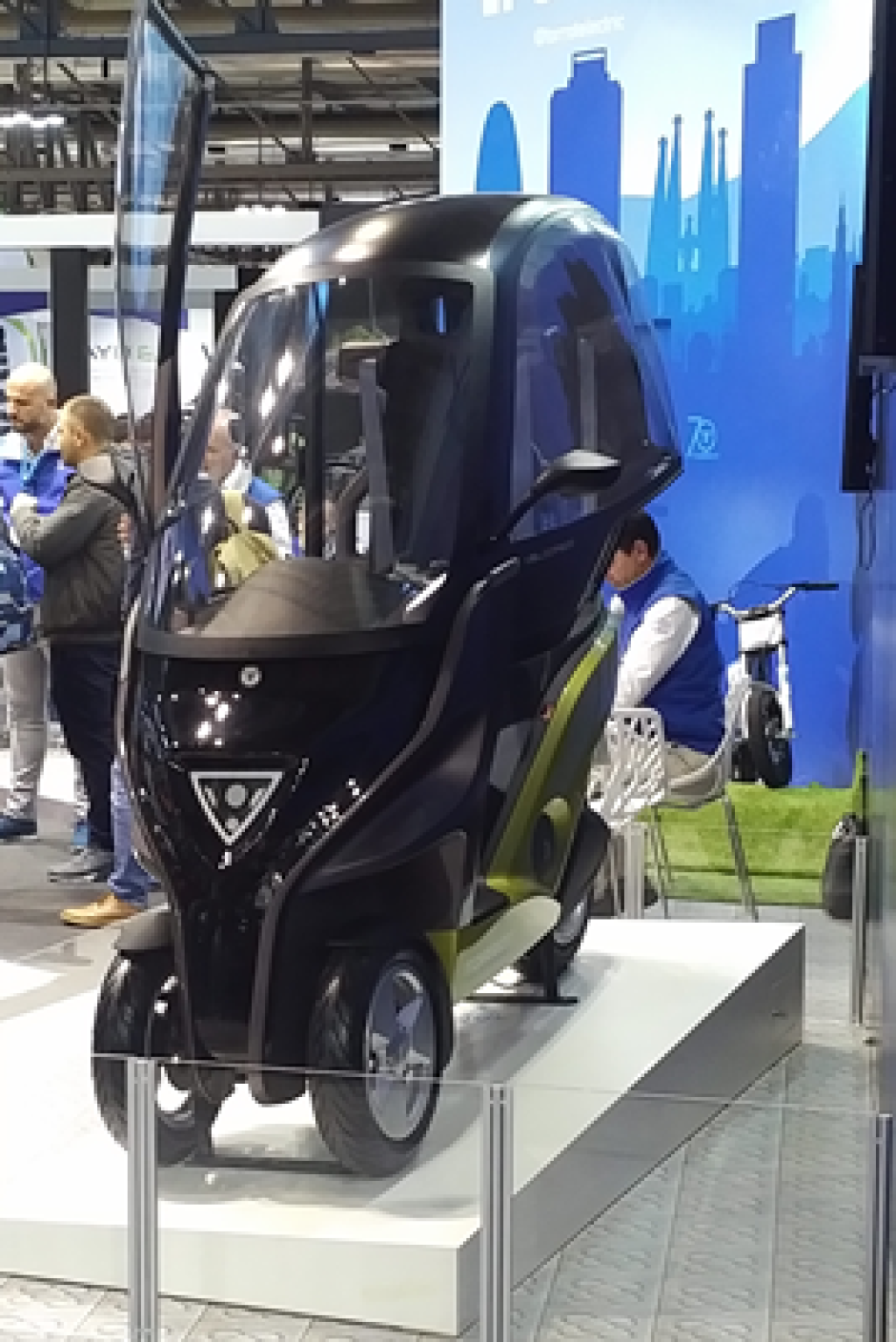 As an aside, Torrot also unveiled their 2018 Muvi models with a few nice tweaks like a new rear arm, extended range from new optional batteries and different colour options.
ECCity from France were showing of their entry into the 3-wheeled market too. Available to pre-order this 10KW machine has the 2 wheels at the rear and also will come with removable batteries (which they are also announcing for the rest of their line-up). Up to 120km range and 100km speed is the target performance. ECCity do classy looking machines and what's interesting about all these offerings is that there is no hard and fast rule about which end the two wheels should be. The defacto standard set by Piaggio is 2 at the front whereas Scutum and ECCity have gone for the other configuration. From a stability perspective, I doubt it matters but for delivery and heavy loads, I would suspect that 2 at the rear might be more applicable.
Scutum were showing theirs off as a Police variant too so Public Sector would be another area but obviously nipping in and out of traffic would probably have to be sacrificed on 3 wheels. All of the above are coming or being developed so more information will follow as they become available.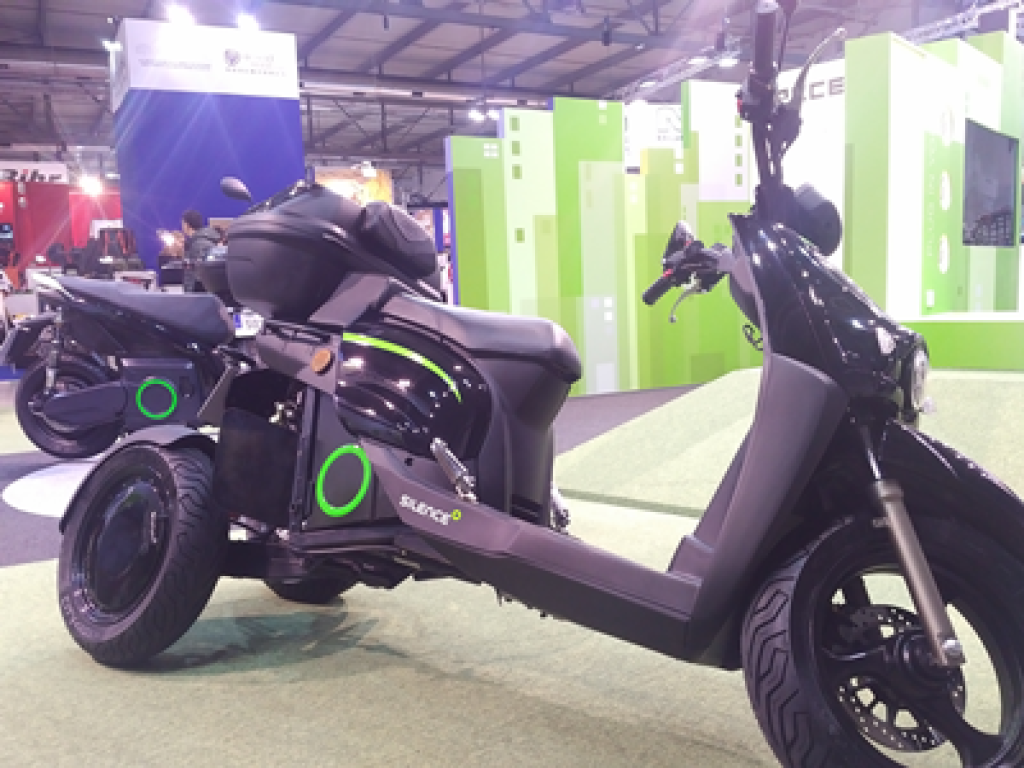 The Far East
In China the days of petrol mopeds and motorbikes were over long ago. Visit Beijing for example and everyone is on electric already. Its somewhat eerie to see hundreds of bikes silently whizzing around, partially obeying the rules of the road. You need to also pay a great deal of attention crossing the streets especially at night because there doesn't seem to an enforced law about riding with your lights on or the bikes having them permanently on automatically. Presumably the riders think that having no lights saves the odd watt or two but silent shadowy motorbikes can be a real hazard.
It's not surprising then that were quite a few manufacturers from China and Taiwan at EICMA either overtly as Wuxi with their cool 21st century incarnation of what a Vespa could be (unfortunately no MPH) to the more covert brands of Super Soco and Evoke.
Currently Super Soco by VMoto offer the TS 1200R in the UK. A stylish 1200w 78KG L1e machine perfect for the commute to work but there are 2 other versions available and soon to be offered here too (check out MotorCycle Live at the NEC for more). The TC is the one of more interest. Its more or a classical design stated as a "Retro and Modern Collision" which despite the unfortunate use of the word "collision" when discussing vehicles, kind of fits. A bigger looking bike all round than the TS with apart from different handlebars looking to offer a more upright seating position, the main visual difference is towards the back end with a larger seat, dedicated mud-guard and additional styling that makes it looks more substantial. With an increase to a 1500 Watt Bosch hub motor which they claim is 92% efficient in transference of power, it should be popular.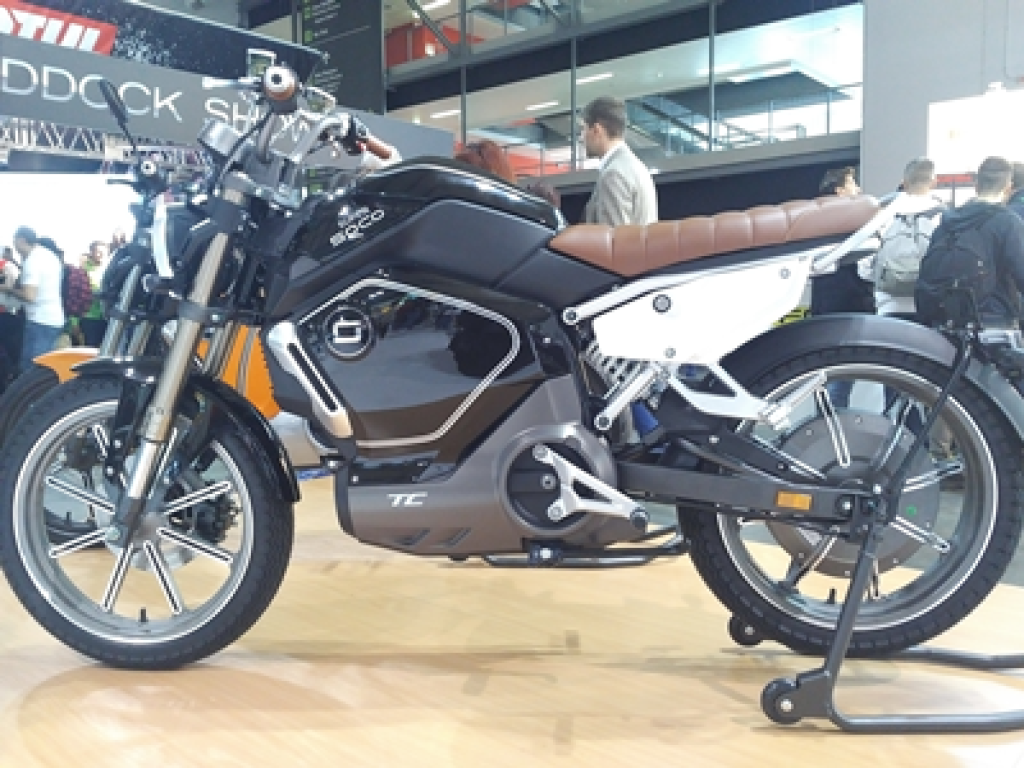 Just across the way, VMotos Italian Distributor had the newly announced Evoke on its stand. Soon to be available in an Urban Classic and Urban S guise and with a reported 200km range and 3-hour charging (if using an L2 Charging station), the actual news about this one is the 19kw, repeat 19kw motor meaning a top speed of 81mph and regen braking. Sure, its nothing to compare to Energicas 107KW Ego or EVAs but then its reported to be a fraction of the price. Not yet available in the UK.
In addition to Super Soco, Nui also from China had one of the larger electric motorbike stands. Its Nui M range must be one of lightest bikes out there at under 60KG but again, no MPH so not really viable here.
The other aspect of Far Eastern bikes is that they still have many Lead Acid Bikes which you would be hard pressed to find in European bike. Doohan still promote 8 in their brochure with 5 further lithium based bikes in addition to the ITank and ITango. The lead acid bikes are not an option if you are going after the Plug-In MotorCycle Grant and some of their models like the 800w Beatles-3 with its funky electric green "roast paint" have non-mph speedos. The 1200w Vino could be an option though.
UgBest were also there promoting their EkoKargo delivery range which a choice of 20ah 2kw silicon based bikes up to 60ah 5kw lithium and Jiangsu Bolt Intelligent Technology (Tinbolt) had a large stand with some Vespa-like 800-3000w Lead Acid based machine called the TB-F10.
Next up was Sanyang (Sym) from Taiwan offering their e-Virid Lithium based bike in deluxe and standard models. Both are 1800w 48v machines.
A sportier looking bike came in from Otto from Taiwan with the MCR standing for Mini City Racer. 7.5kw, 64mph top speed and 62-mile range. They state a maximum charging time of 2 hours and 30 minutes for 95% on the fast charger which could be a coffee stop on a longer journey.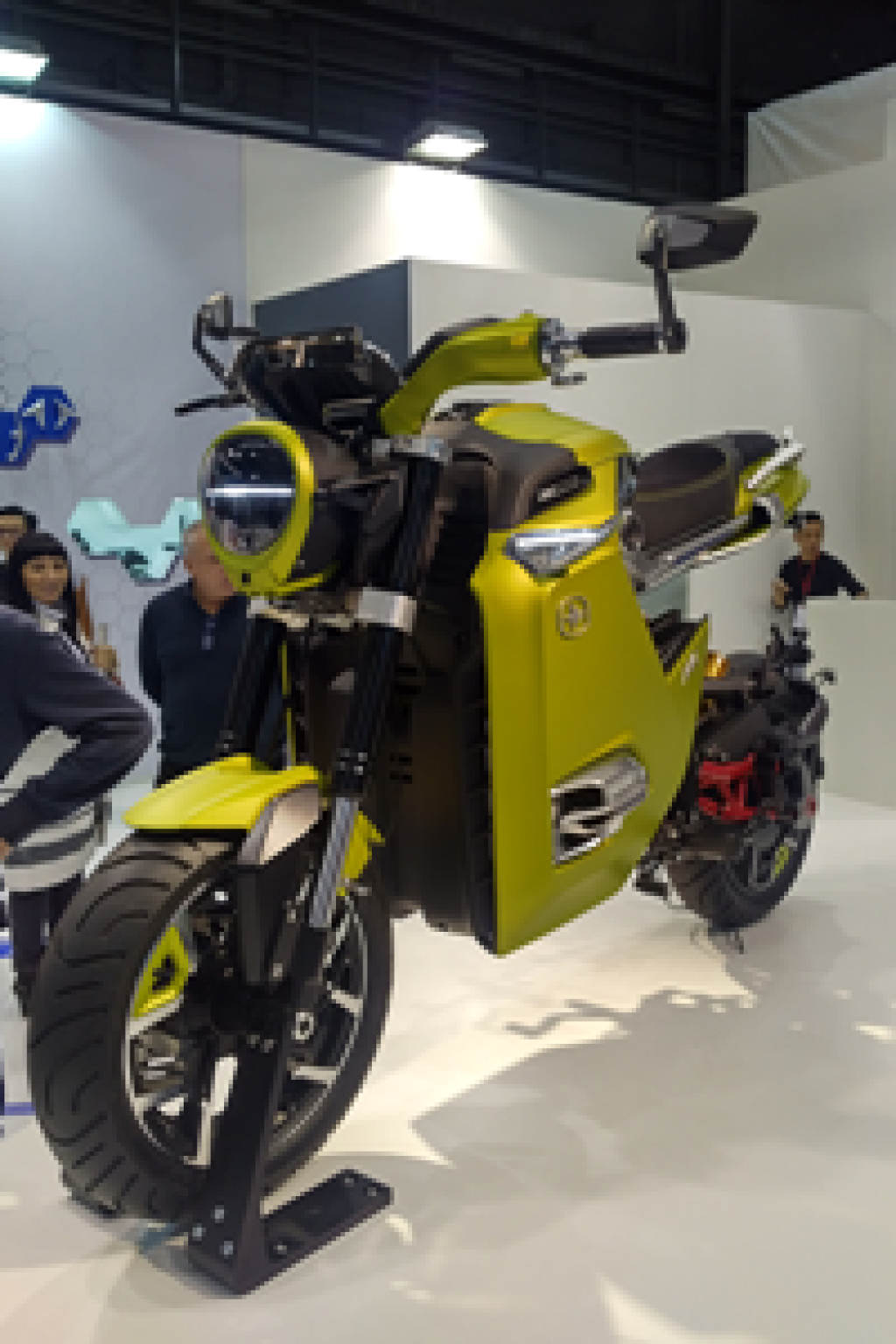 Europe
In addition to ECCity from France and Torrot from Spain, Germany was represented by Govecs who might well be known for Bike sharing schemes in Paris with its CityScoot and eCooltra in Lisbon plus others. They were launching their new Elly One (2kw) and Two (3kw) L1e with Bosch hub motors with sub 3 hour charging from the removable batteries with the fast charger. Rather than twin batteries, they offer a "Fat Boy" for up to 70km range but weighing in at 17KG so not something to carry too far. Pre-order for Summer 2018 delivery.
Both Govecs and their German counterpart Emco-elektroroller have retro looking bikes in their range. Govecs Schwable's face is very distinctive in a "mar-mite" love-it, hate-it sort of way. This 8km machine can take up to 2 batteries and is one of the few bikes that can have ABS as an option.
Emco have gone for a reincarnation of a 60s Vespa look with its 2km Nova. Up to 130km from 2, 37Ah batteries or 50km from 1, 28Ah, there's enough room for 2 and the design does look very close to the original which should give it great interest. Italys offering from Askoll is a different breed again. They do pedelecs too, but their ES range of electric mopeds design is quite different from the rest with a sort of swan-neck front design.
They offer 3 "ES" models, the single seat base model ES1 is a 1500w, L1e based bike which is stated to have a 3-hour charge from its single removable lithium battery and just over 30-mile range. The 3000w ES2 adds the ability for a pillion plus some additional storage as standard and 2 removable batteries chargeable in just over 6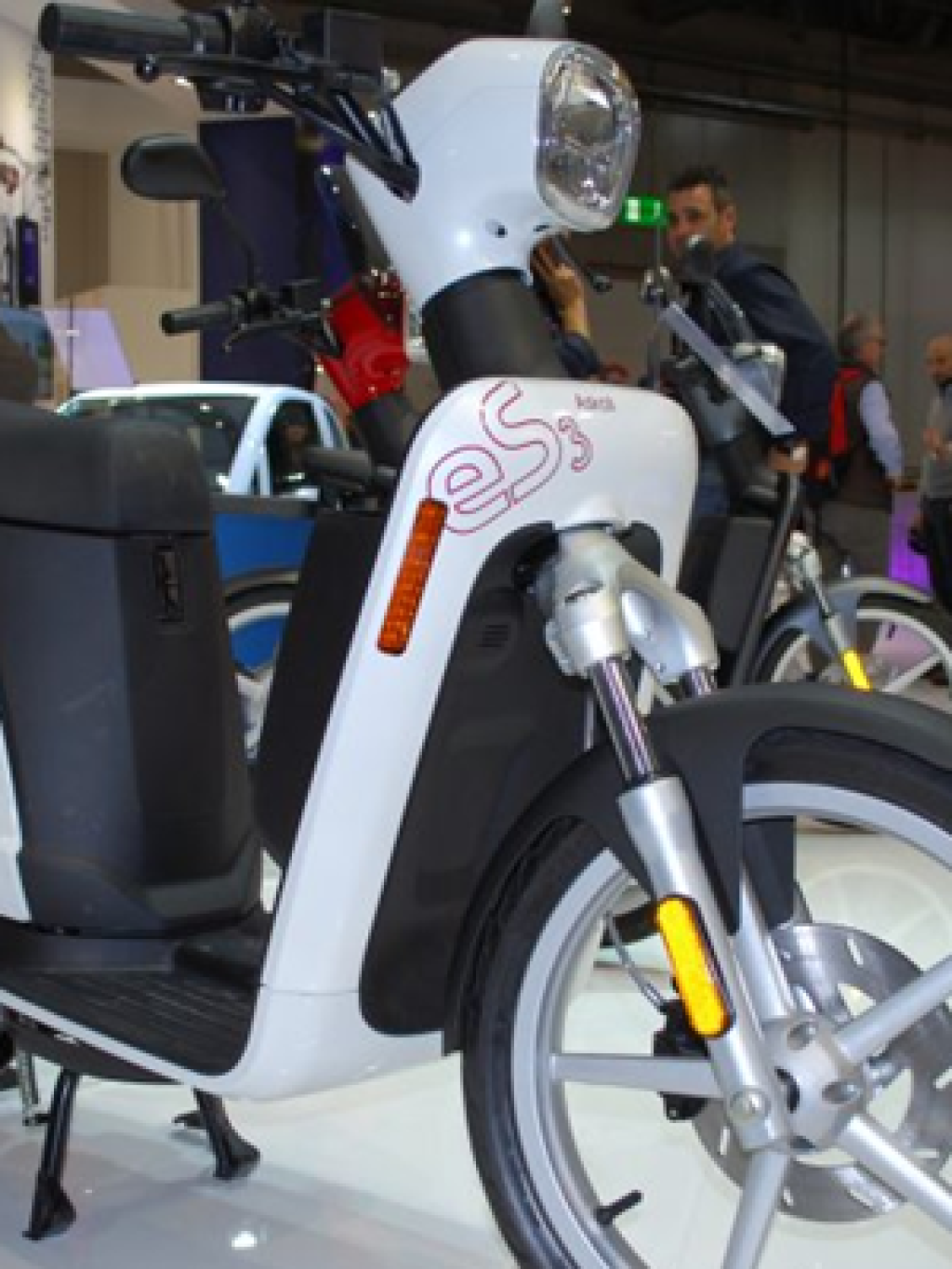 hours with a 50-mile range. The top of the range ES3 also is 3000w but increases the speed to 43mph (making it an L3e "125cc" bike). Range is up to 60 miles but for that a full charge could go to 9 hours from the twin removable batteries.
They all come with a rear tray for a top box or delivery options and are available in 6 colours.
Coming at riders from the higher end, Volta from Spain have a couple of sharp looking bikes in their BCN City and Sport models. Both are up to 25kw, 75mph with over 40-mile range and 2-hour charging. The latter having a different Sport mapping, brakes, hand-grips, windscreen and a few other cosmetics differences. Available for pre-order
And finally
For those who still do not think that electric motorbikes cannot be exhilarating, fast and exciting, you only needed to drop by Energica to see that that is not true. The stand had a lot of interest and not just because they were a "local" brand from Modena. They have a twitter handle of #MyElectricSoul and you can see why. Unless or until you notice the lack of exhausts, you could easily be forgiven for believing their 4 models are not one of their high-end petrol cousins. Up to 107KW, 145hp and limited top speed of 150mph making every other bike I've mentioned look massively lacking. Even the entry level EVA model has an 80kw motor and 125mph top speed and hence include Brembo brakes to bring you to a stop.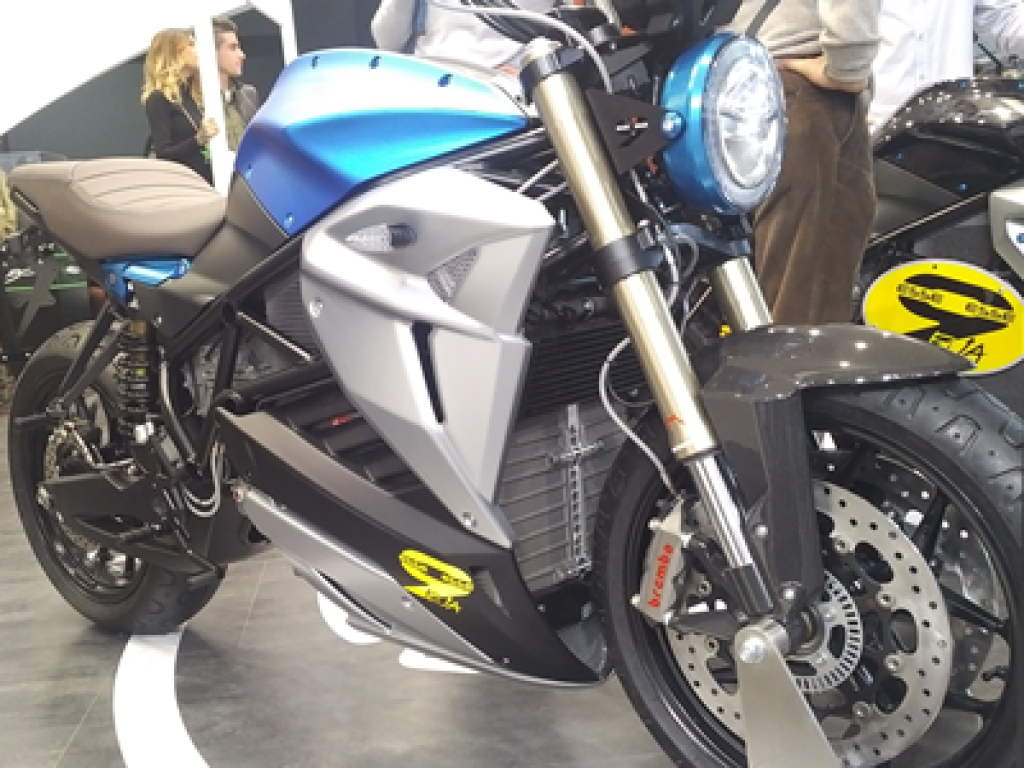 Range is quoted at 93 miles but fast charging can get you back up to 85% in 30 minutes from a mode 4 on-board charger.
Of course, these bikes don't come cheap. Prices on the stand stated that your start from €21,000 for the entry level EsseEsse 9 and work up from there. But pick a fully loaded "Italian Flag" EGO with upgraded suspension, bobins etc and you're heading towards the wrong side of €31,000 (ex VAT). This highlights one other challenge electric faces over their petrol equivalents after all the positive aspects they possess like zero emissions, cost of ownership and low running costs and that is the entry price. If you consider that a new Honda CBR1000RR Fireblade is around €10,000 less than that and a YZF-R1 even less and you can see that there is still some way for the technology to go at this end of the spectrum before it's a real no-brainer to move to electric. Some of the newer brands coming in to the market might help in that and it will be interesting to see what happens as we head in to 2018.
I'm already looking forward to EICMA 2018!